'Jane the Virgin' Writer on How TV Can Upend Distorted Immigrant Narratives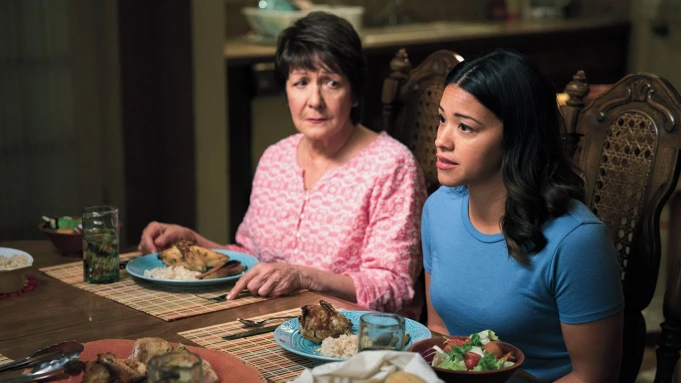 As I walked into the room, a screenwriter approached, proudly showing me his script — an original story he and his production company had developed: Donald Trump was being racist to immigrants, his wife divorced him because she would not tolerate hate, and it ended with Trump apologizing to the country for his bigotry. The screenwriter was 9 years old, and his team was made up entirely of fourth-graders.
This is the work of the Youth Cinema Project (YCP), the Latino Film Institute's signature education program. Founded by Academy Award nominee Edward James Olmos, the program focuses on giving children of color, young women and immigrant students the skill set to tell their stories. Because when we don't empower them, their realities are at best ignored on our screens, and at worst distorted.
Take this new study by Define American in partnership with The Norman Lear Center and The Hollywood Reporter. Its findings about immigrants on television don't reflect the students I work with, or the family I grew up in. Researchers found that on TV, one-third of immigrant characters are associated with a crime, when in reality, immigrants commit crime at a much lower rate than native-born Americans.
Then we have the fact that immigrants are portrayed as less educated on TV than they are in reality. A formerly undocumented student myself — in fact, I first learned of my status when I was ready to apply to colleges — I received my bachelor's and master's degrees from UCLA and was recently named Alumnus of the Year by the community college where I started out, Mt. San Antonio College. More proof that our real-life stories don't reflect what we see on TV (though, I must admit, I almost didn't pass chemistry).
I have noticed a trend in TV writers rooms to bring in guest speakers or hire nonprofits in an effort to fairly and accurately tell immigrant stories; while this is a step in the right direction, it is by no means the answer. If we want proper representation of immigrants on TV, then we have to start hiring immigrant writers. Period. It may sound complicated, but Jennie Snyder Urman, creator of Jane the Virgin, did it with me.
The fictional character of Alba Villanueva was an undocumented immigrant well before I entered the Jane writers room. But in sharing the scary yet laughable experience of an immigration official trying to stump me during my own citizenship test — and explaining how deeply moved I was seeing fireworks for the first time on the Fourth of July — we defined a more authentic and uniquely American character in Alba (or "Habla," as Brooke Shields' character likes to call her) as she went through similar experiences, leading with her heart, not with her politics. It was Jennie who taught me the greatest narrative lesson of all: People can ignore issues, but they cannot ignore other people.
By hiring more immigrant writers (and developing the next generation with programs like YCP), Hollywood can make it impossible for audiences to ignore the American stories happening all around them.
Read the full article here.